BRUT WIEN
The still very young brut co-production house is already one of the most renowned independent theatres in the German language area. Within its two venues – brut im Künstlerhaus and brut im Konzerthaus – brut hosts international, experimental and innovative performative art. Besides contemporary theatre, dance, performances and site-specific projects or lectures, discussions and workshops, the programme contains some of Vienna's most cutting-edge pop concerts and parties. Pop cultural and artistically advanced formats intermingle and allow a generally art-loving public access to the innovative programme of the house. Each season, brut opens its doors for around 300 events. Almost two thirds of the shows presented are co-productions with Austrian artists and artists' groups. Under the label brutproduction they are placed in an exciting relationship with international guest performances and co-productions hosted by brut. brut regularly concentrates the activities of the independent theatre scene in Austria under special topics and puts them into an international context.
Since the opening of brut in November 2007 more than 20 thematic priorities – among others Jung bleibt Alt (2007) [Young remains Old], Lust am Verrat (2008) [Joy in Treason], Telling Time (2008, 2009 and 2010), Reproduktionen (2008) [Reproductions], Kingdom of Darkness (2008), Operettenwinter (2008) [Operetta Winter], The State of the Nation (2009), X Wohnungen (2009) [X Apartments], Religion und Revolution (2009) [Religion and Revolution], Performing the Real (2010), Music Here, Music There (2010), Geld-Werte-Leistung (2011) [Money-Values-Performance], Untranslatable (2011) – have been shown. brutproductions tour worldwide. Since 2007, brut productions have been shown more than 450 times as guest performances. They have been invited to acclaimed festivals and world-famous venues, among others to the Theater Festival Impulse, Chelsea Theatre London, Kaaitheater Brussels, Kunstenfestivaldesarts in Belgium, Under the Radar in New York, the sophiensæle Berlin, in the Fundición Bilbao, to Malmö, to the steirische herbst in Graz, into the Mousonturm Frankfurt, the Centre Pompidou in Paris, Hebbel am Ufer Berlin, Österreich TANZT in St. Pölten and many more.
brut im Künstlerhaus / brut im Konzerthaus
brut Wien has of two venues – brut im Künstlerhaus and brut im Konzerthaus – in the 1st and 3rd Viennese districts and provides the artists in the city centre with premises appropriate to the various demands of the productions.
The multifunctional hall of brut im Künstlerhaus, with almost 240 sq. m, provides a black box for various purposes. From concerts to performances via dance to classical theatre situations everything is possible here. There is space for up to 160 guests on the main stand and in the gallery. The associated foyer of brut im Künstlerhaus is a flexible project space for installations, video works, lectures, performances or talks with the audience.
With its almost 50 sq. m, the bar brut deluxe in brut im Künstlerhaus is both a space for artistic examination and a dance floor. An important hub for creative ideas, a meeting room, a venue for première celebrations or a meeting point on the Karlsplatz. Series of events specifically designed for the bar and DJ-evenings are organized on a regular basis.
brut im Konzerthaus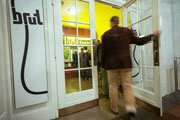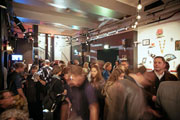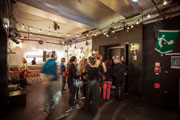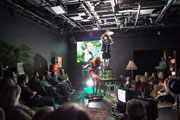 With almost 90 sq. m, brut im Konzerthaus is an intimate theatre space with ideal conditions for specific presentation and production formats. The ability to combine the foyer and the hall into one room gives the venue its particular nature, providing space for up to 100 guests.