TICKETS

Tickets for the performances in brut im Künstlerhaus and brut im Konzerthaus can be reserved by phone, e-mail or online.
The box office opens an hour before the start of performances. Reserved tickets can be picked up 30 minutes before the
start of the performance at the latest. The ticket price for the performance can be found in the detailed information on the performance.

Ticket reservation by phone
+43 (0) 1 587 05 04
Reservations by phone are possible up to 2 hours before the start of performances.

Ticket reservations by e-mail
tickets[AT]brut-wien.at
Reservations by e-mail can be made up to 2 hours before the start of performances.

Ticket reservations online
Online reservations can be made on the web page of the desired performance. Please call up the programme announcement of the desired performance in the current programme. By clicking on the "booking" button – top right on the production page – you can reserve up to four tickets per date and performance. Online reservations can be made up to 2 hours before the start of performances.

Box office
The box office opens an hour before the start of performances.

Concessions
School students, apprentices, university students, those on military and civilian national service, pensioners, wheel-chair users with accompanying person, unemployed, Ö1 Club, Der Standard, IG Freies Theater, Wienkarte, ÖGB, EYCA (European Youth Card Austria), Filmarchiv Austria, Hunger für Kunst & Kultur, mdw club, Gartenbaukino Abokarte, 21er Haus Jahreskarte

Admission free for accompanying persons for wheel-chair users.

Please present your concessionary ID at the box office. Exchange and/or return of purchased tickets and retrospective claims to any concessions are not possible.

brut calls you to get stamped!
You can get your brut stamp-card from the box office.
One stamp per visit – after every five stamps, one visit to one of brut's own events is free.

Press ticket reservations
Please contact Eva Ludwig-Glück for press ticket reservations: presse[AT]brut-wien.at

________________________________________________________________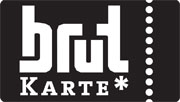 the brutkarte*
See performances for € 6 at brut!
Not only do performances cost just € 6 with our annual membership card,
every brutkarte holder will also receive lots of other attractive goodies.
€ 30,-/€ 10,- (see concessions)


No day without brut! With the annual season ticket not only is the visit to a performance cheaper than it is for all the other guests: every holder of a brutkarte receives reduced admission to brut partner institutions, receives a second pair free when buying underwear from the brutcollection – as long as stocks last – no longer has to pay for the cloakroom and has free admission to selected brut parties, concerts and showings. With the brutkarte you will no longer miss any events in future, because the programme folder by post is part of the packet. With each new programme there is also a special offer for brutkarte holders. The brutkarte can be obtained on performance days from the box office and is valid until the end of this season 2014/15. It is not transferable. With the brutkarte performances cost € 6 instead of € 14/€ 8.

The brutkarte can be purchased at the box office on performance days and is valid for twelve months after the date of issue.
Since it is non-transferable, please always bring an identity card.
Partner Institutions
>>> Filmarchiv Austria: with the brutkarte, tickets for the Metrokino cost just €7 instead of €8
>>> Gartenbaukino: with the brutkarte tickets for the Gartenbaukino are 1 € cheaper!
>>> 21er Haus: with the brutkarte tickets cost €5,50 instead of €7.

Reduced Merchandising
>>> Receive a second pair free when buying underwear from the brutcollection
(as long as stocks last)
>>> get reduced t-shirts from the Atzgo-brut-shirt 3000 Edition
brutcollection
Free Admission for brutkarte-holders
>>> Sweet Heat
>>> Bretterbodendisko
>>> Tina C (Konzert)
>>> V'ELAK Gala